Like almost every chapter in the CompTIA A+ Cert Guide book, the RAM chapter is split into a hardware and software section. These are also commenly reffered to as 801 for hardware and 802 for software. This section will show you general knowledge that is coverd by the 801 objectives for the A+ certification test. To begin understanding RAM, there are some general things to know. RAM stands for random access memory, and is used by the computer to store data temporarily when it is using it often. RAM is also volitile, which means that when the system powers down, all the data on the RAM is gone. There have been many types of RAM modules, and here is the list you should be comfortable with for the 801 test.
DRAM - Dynamic RAM. This type of RAM is constantly refreshing to update to the new temporary files that are being used. Pins for DRAM include 30, 72, and the rarely seen 168.
SRAM - Static RAM. This RAM doesn't need to be periodically refreshed like dynamic RAM does and is constantly found in CPU cache, buffer in hard drives, or in other small quantities. It is very fast and in return is fairly expesive. SRAM is typically soldered directly onto the part so it doesn't have pins.
SDRAM - Synchronous Dynamic RAM. This was the first type of RAM that ran at the same speed of the CPU bus. Pins for SDRAM include 168-pin DIMM. Bus speeds ranges from 66 MHz to 133 MHz.
DDR SDRAM - Double Data Rate SDRAM. This was the first type of RAM to perform two transfers per clock cycle. Pins for DDR SDRAM are mainly 184-pin DIMM. Bus speeds range from 200 MHz to 400 MHz.
DDR2 SDRAM - Double Double Data Rate SDRAM. This type of RAM runs its external data bus at twice te speed of DDR, enabling faster performance. Pins for DDR2 SDRAM are only 240-pin DIMM. Bus speeds range from 400 MHz to 800 MHz.
DDR3 SDRAM - Double Data Rate 3 SDRAM. This type of RAM runs at lower voltages than DDR2 and is twice as fast by increasing the bus speeds again. Pins for DDR SDRAM are only 240-pin DIMM, but the notch on the modules is different than DDR2 so they cannot be used interchangably. Bus speeds range from 1066 MHz to around 2800 MHz and even higher. DDR4 is a thing now but is not covered by Comptia A+ yet.
Another important factor when it comes to RAM is the actual shape and size of the memory modules. Heres the list you should now for the test.
SIMM - Single Inline Memory. Has a single row of 30 or 72 edge connectors on the bottom of the module. Single means that both sides of the module have the same pinout.
SIPP - Sinlge Inline Pin Package. A short-lived variation on the 30-pin SIMM, which had pins instead of edge connectors. SIPP has 30 pins.
DIMM - Available in 168-pin, 184-pin, and 240-pin, this is the most common version of RAM as it is seen in all versions of DDR. Dual refers to each side of the module having a different pinout.
SODIMM - This is a compact version of DIMM, and is available in various pins (pins for SODIMM are not on the test). SODIMM is commonly found in laptops, netbooks, and laser printers due to its size.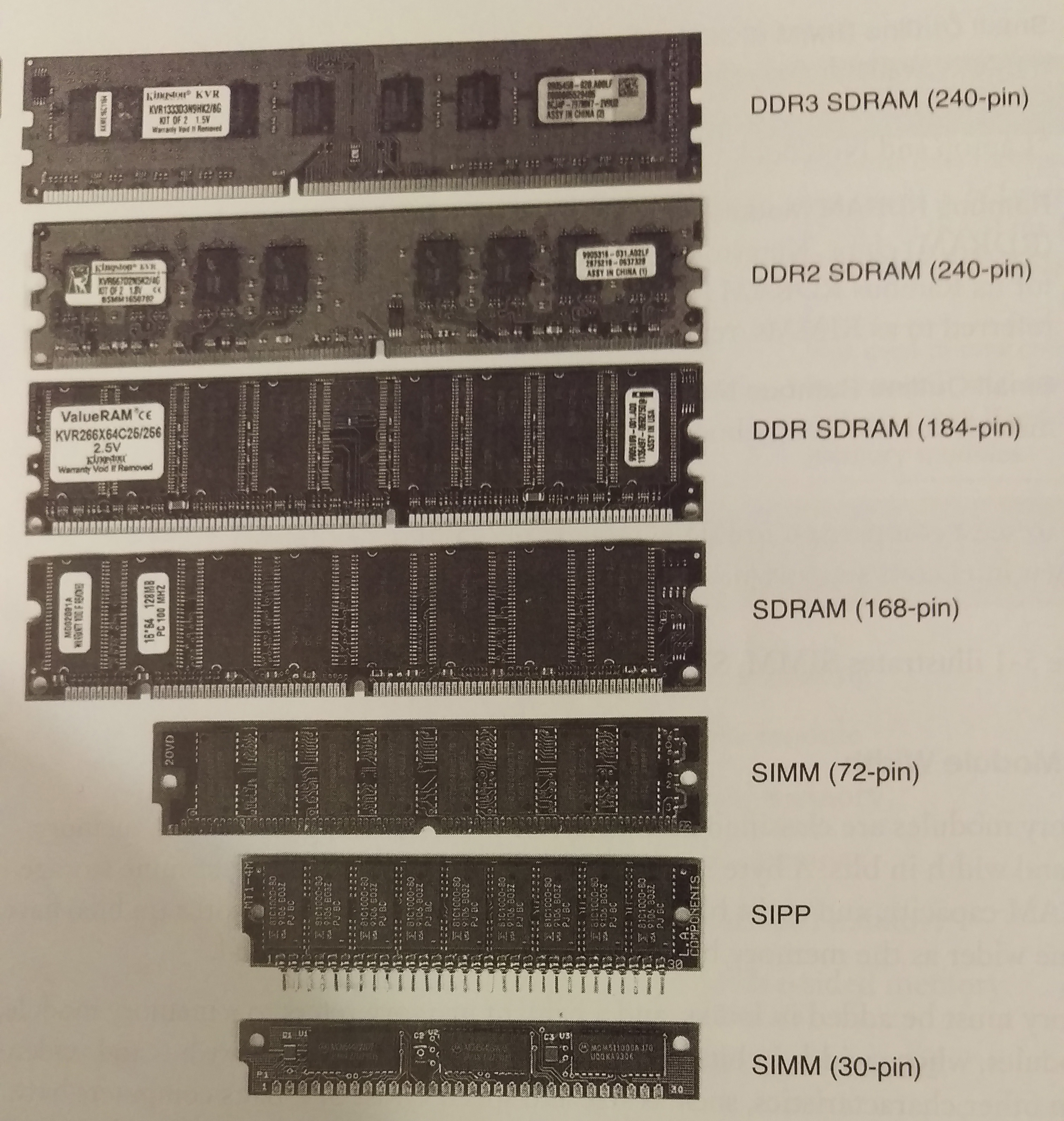 As far as hardware goes, the last thing to note about the RAM chapter is ECC and Parity checking. Parity and ECC are both ways your RAM tries to warn you of problems, and both involve having an additional chip or two on the RAM module. Parity checking goes adds the ones and zeros in a byte to see if it adds up to an odd number. Issues in the RAM will cause the total number from a byte to be even, so parity checking can tell you when there is a problem. ECC on the other hand not only checks the data but also fixes problems. RAM modules with ECC are more expensive and are often found on servers, where keeping the system running is crucial. ECC checks bit by bit, making it more thorough, and fixes the problems without the user having to get involved. This should cover most of the basics for the RAM chapter in the Comptia A+ Cert Guide.