Early Life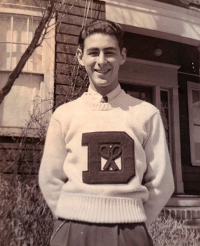 Saul Sokolow was born November 6, 1924 to parents William Sokolow and Mary Barnett in Dorchester, MA. His parents were Russian immigrants who came to America in the early 1900's. Saul Sokolow grew up in a three-decker house in Dorchester, and in his early teen years he found a love for photography. Sokolow had a box camera, like the Kodak Brownie, and taught himself how to process the film. Money was scarce during the Depression years, (1935-1945) and Sokolow's family was financially unable to help him with his photography. However, Sokolow found that he could make a few dollars by taking pictures of neighbors' kids and selling the processed photograph to them. This helped to further his knowledge of developing film.
During this time Sokolow worked at Lindbrooks, a clothing store. During his lunchbreak, he would sit with his camera in the Boston Common. One day, he noticed a young boy feeding birds, and felt the inspired to take a picture. Pleased with how the photograph came out, Sokolow entered it into the Boston Globe's photo contest. He was shocked to learn that he had actually won the contest as well as the $25 prize, which was a considerable amount for a 16 year old to make at the time. After seeing the picture of her son in the paper, the mother of the boy contacted Sokolow and ordered a dozen pictures of her son.
Sokolow was drafted on August 18, 1943. His adventure was about to begin.
Overseas and beyond
On June 27, 1944, Sokolow and his battalion boarded ships in Weymouth, England for transport to Normandy. Tanks, guns, jeeps, and trucks were waterproofed and chained to the deck and the men were given vomit bags. The first night on the beach was a dreadful one for the infantry, and was filled with non stop gunfire. Sokolow waited in a foxhole until morning. The gunfire had died down, so they began unloading the trucks and tanks.
Later, Sokolow found a small box camera while digging through rubble. He suggested to his Captain that he could take pictures of the battalion members so they could send them back to their families. Captain Benjamin was hesitant, so Sokolow explained to him that he would be able to use the interior of the tanks as dark rooms and collect supplies from ruined buildings. His captain was convinced, and Sokolow went on to take hundreds of photos before returning home on New Years Eve, 1946.
Among his many adventures, Sokolow helped to capture countless German POW's, built a tennis court, and discovered original German war films.